With the increasing popularity of automobiles in Chinese households, the situation of morning and evening peak congestion in cities has also increased. Vehicles equipped with start-stop systems can reduce unnecessary idling of car engines and calmly cope with urban congestion. The implementation of the National Sixth Standard for Automobiles in 2020 has also made start-stop technology one of the first choices for car companies to reduce fuel consumption.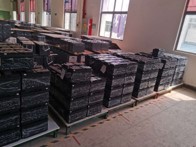 CSBattery AGM start-stop battery is made of environmentally friendly materials and adopts Italian Sovima technology grid. The battery has low self-discharge rate and stable performance. It not only effectively reduces vehicle fuel consumption by 5%, but also has high cycle charging

capability and low temperature startability. Strong, durable at high temperatures, suitable for use in a variety of harsh weather environments.