CSBattery New Battery-Solar Smart Generator 12V100Ah publish in June, 2019.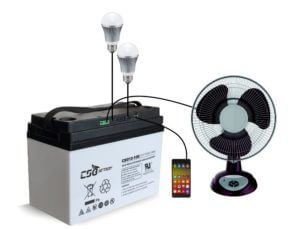 As a smart solution for home lighting system, solar generator unit provides a portable sort for DC LED bulb, DC fans and other home electrical devices; Its advanced DSP controller prolongs the battery cycle life and back-up time; The system energy could be rechargeable by solar panel.
1. 3W, 5W, 7W DC LED home lighting bulbs (with cables) optional.
2. Dual 5Vdc USB sort for electrical device charging (Mobile…).
3. 12V5A sort is reserved for large capacity app (DC fans, DC TV…)
4. Over charge/Discharge Protection; Real-time capacity indicator.
5. Auto dormancy function to prolong battery cycle life.
6. No installation work; DC sorts directly connect, plug-in design.
Welcome send inquiry to CSBattery sales team for your growing market.