When most people hear the words 'solar power' they instantly think of good 'ole solar panels on rooftops or in a solar farm in the desert. And with good reason: traditional utility-scale and rooftop solar panels have dominated the solar market until this point.
But there are now several exciting new solar panel technologies either in the pipeline or already on the market. These promising technologies will revolutionize the way we think about not just solar, but energy production in general. Solar no longer requires large parcels of land or roof space, nor does it need to look boring. Read on to find out more.
#1 Floating solar farms (aka 'floatovoltaics')
Silicon panels are becoming cheaper and more efficient day-by-day. According to experts, if photovoltaic panels are placed on reservoirs and other water bodies, they offer even greater efficiency as well as a plethora of other benefits.
"Floatovoltaics" are photovoltaic solar power systems created for floating on reservoirs, dams, and other water bodies.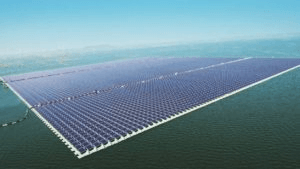 Floating solar farms can generate huge amounts of electricity without using valuable land or real estate. The installation costs of floating photovoltaic panels are less than land-based photovoltaic panels. Also, research showed that the power production of floating solar panels is greater by up to 10% due to the cooling effect of water.
Besides producing clean solar power, floating solar farms can help with water management. They reduce the loss of water to evaporation as they limit air circulation and block sunlight from the surface of the water. Also, floating solar farms prevent noxious algae production, lowering water treatment costs. Furthermore, the water beneath keeps solar panels clean and minimizes energy waste.
In 2008, the first commercial 175 kWh floating panel system was installed in California at the Far Niente winery in Napa Valley.